I award this book 5 stars for imagination, inventiveness and originality and look forward to going back to the beginning and finding out how it all started with part 1, Melody & Majesty.
--Lindsey (UK)
You leave this book feeling like you've gained a family yourself and been on the epic adventure with them. It's a book you know will stick with you forever. I can't wait to follow the series further and see just how far this all goes!
--Julia (UK)
The characters make this book such a joy to read ... I highly recommend spending some time in this world
--Carolee (UK)
Absolutely the best thing I've read this year and among the very best ever. A superbly crafted work of fiction which dares to rival the greatest adventures ever told.
-- Anthony Poulton-Smith (UK)
M7RRORS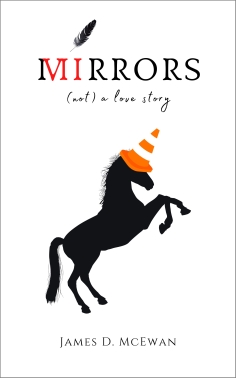 Published by James D. McEwan
Buy from:

He thinks he has found the woman of his dreams, but before he can find true love, there are mountains to climb. His court-mandated psychiatrist self-medicates, and his flatmate, Frank, bristles with animosity and spite. It could be a mistake to mention the talking blue tiger called Sean. Yet, Jenny doesn't seem to care about these things; she's a potty-mouthed princess come to sweep him off his feet. Things should feel wonderful, but dark clouds are gathering, and his nemesis is creeping into his nightmares. He'd take a long hard look at himself if only the mirrors would stop reflecting the truth. Can he ever find happiness? Does Jenny even care? Will Dr MacNeill stop smoking weed? This is Glasgow, and this is not a love story.
296 pages | 978-1-7391270-3-9 | January 8, 2023