Hammer & Glass: Kalleron Book IV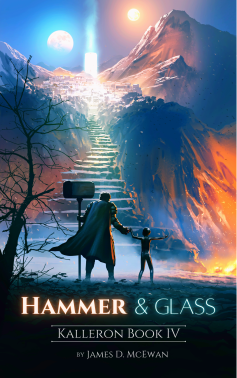 Kalleron Book IV
Published by James D. McEwan
Buy from:

Her mother means the World, yet Chara has been abandoned, inexplicably left alone in the immortal citadel of An'Korathall. Naïve of the human ways, who does a lonely Elemental child turn to when the eyes of malicious men fall upon her?
There is a man in the mountains. Something her mother had said: the man who lives among stone is a man apart from flesh. This ancient force whose legend has ebbed in time; he will keep her safe. He must.
An old, reluctant power rises once again in An'Korathall, the forgotten King grumbling and reaching for his cataclysmic weapon. With his unearthly war hammer in hand, he swears to protect the child of glass.
Seeking answers to Chara's plight, and joined by friends old and new, he learns of a terrible new threat. The Elemental covenant is in play; Fire has spread her wings. The Great Destroyer is coming to Earth.

---
Hammer & Glass introduces the reader to the world of Kalleron in Book IV. A standalone story, its timeline sits in the centre of the saga, bonding together the heroes of old and the heroics of the future. The saga will continue in Spring 2023 with the release of the foundation story, Melody and Majesty: Kalleron Book I.
310 pages | 978-1-7391270-0-8 | November 10, 2022
An incredibly well thought out world ... I'm excited to see where it all started

J Evans (UK)
The characters make this book such a joy to read

...

I highly recommend spending some time in this world



Carolee (UK)
I want to know what happens next in this Elemental saga - I'm keen to see the story unfold. A brilliant debut novel.

Christine (UK)